The IEA is delighted to promote the flagship RES Annual Conference (#RES2022). This Conference will be held virtually, with in-person hubs available for networking purposes. The below text was supplied by the RES.
---
About
The RES 2022 Annual Conference will take place virtually from Monday 11 April to Wednesday 13 April 2022.  The Annual Conference is the flagship RES event bringing together hundreds of academic and professional economists to present the latest developments in economics and showcase their real-world application.
The full 3-day programme includes includes an engaging selection of special and general sessions, 3 lunchtime chats, an evening panel delivered by the University of Warwick and 4 keynotes.
The Society is delighted to welcome keynotes from Prof Nicholas Bloom, Stanford University (Hahn Lecture), Prof Serena Ng, Columbia University (Sargan Lecture), Prof Stefanie Stantcheva, Harvard University (Economic Journal Lecture) and Prof Tim Besley, RES President (President's Address).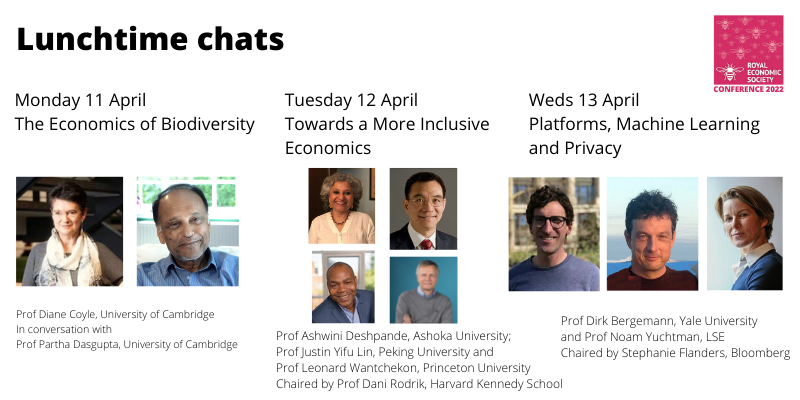 In-person hub (networking) events
To enhance the conference experience and to provide an opportunity for in-person networking, the RES will be supporting three in-person hub events, these are free to attend for conference delegates. The three hub events will take place at the University of Reading (11 April), University of Manchester (12 April) and Ashoka University (13 April) – you can book to attend any of these hub events at no additional cost. These will offer conference delegates face-to-face time with peers and colleagues, included in your conference ticket.  Each hub venue will host an in-person keynote, networking opportunities and time to come together to view the virtual keynotes:

The full conference programme can be viewed here.
A video summarising the highlights of the 2021 programme can be viewed here.
When/where
Virtually (but in-person hubs are also detailed above).
Registration / Book Tickets
For information on registration and to purchase tickets to #RES2022, see here.
Note: Before registering, you might like to consider becoming a member of the RES.  When taking advantage of the Early Bird rate (ending 28 February) members will receive over 50% off the full conference ticket price.  After the event, members will be able to access videos and recordings from Conference.